◆ 会议时间:2023年3月23-25日
◆ 会议地点:美国 奥兰多
◆ 会议简介:
2023年美国放射外科学会(RSS)年会将于2023年3月23-25日在美国佛罗里达州奥兰多举行。
放射外科学会(RSS)是一个由医师、物理学家和相关专业人士组成的国际性、医学专业、非营利性协会,其宗旨是通过提供一个国际合作和教育论坛,支持立体定向放射外科(SRS)、立体定向体部放射治疗(SBRT)和先进治疗领域的科学、临床实践和技术创新的发展,鼓励全球采用为患者提供最佳安全性和有效性的技术。RSS前身为2002成立的射波刀学会,2011年更为现名,现拥有超过700名成员,是世界上最大的专注于SRS、SBRT和先进疗法的学会。未经许可禁止复制摘录转载本站任何内容-国际医学会议网(lingyuint.com).
The 2023 Radiosurgery Society (RSS) Annual Scientific Meeting
Date: March 23-25, 2023
Venue: Loews Sapphire Falls at Universal, Orlando, USA
The 2023 Radiosurgery Society® (RSS) Scientific Meeting will be held March 23-25, 2023, at the Loews Sapphire Falls at Universal Orlando, in Orlando, FL. The RSS Scientific Meeting is a collaborative, multi-disciplinary conference, bringing together world-class healthcare professionals who are passionate about the ongoing advancements of stereotactic radiosurgery (SRS), stereotactic body radiation therapy (SBRT) and advancing therapies for patient care. Whether you are new to the RSS Scientific Meeting or a legacy attendee, don't miss the latest discoveries, clinical research and technological advancements of SRS/SBRT and precision therapies presented in this program.
摘要征集:
Important Dates
Abstract Submissions Open: August 1, 2022
Abstract Submissions Close: October 6, 2022
Abstract Categories
Stereotactic Radiosurgery (SRS)
Stereotactic Body Radiotherapy (SBRT/SABR)

Breast/Gynecological
Gastrointestinal
Genitourinary
Head & Neck
Lung
Extracranial Other

Emerging Technologies including GRID, LATTICE, Microbeam and FLASH Radiotherapies
Imaging
Immunotherapy
Physics


Quality Assurance & Patient Safety
Treatment Delivery & Motion Management
Treatment Planning
Other

Translational Research/Biology/Pre-Clinical Models
At-A-Glance Submission Requirements
Create an abstract that is organized according to the following six sections:
Title – Should be in Title Case
Author(s) – Please enter presenting author first.
Objective(s) – Defined as the hypothesis or the purpose of the study.
Methods – Defined as the study design.
Results – Includes the outcomes of the study and statistical significance if appropriate.
Conclusion(s) – State the significance of the results
Additional Submission Requirements
Title of the Abstract should not exceed 250 characters.
Title should not include any product or brand names.
Tables, graphs and/or charts are not allowed.
Number of authors may not exceed ten (10).
Submit your abstract by the deadline: October 6, 2022
Abstract Grading & Selection
All submissions will undergo a blinded, peer-review process and ranked using the following criteria:
General interest in the subject of the abstract/hypothesis
Quality of the science cited in the abstract
Size of the series and the length of the follow-up
Novelty or the level of uniqueness of the study
Submitted abstracts will be considered for the following presentation types:
Oral Presentation - Abstracts accepted for oral presentation will be presented in the Clinical or Physics Sessions.
Poster - Accepted posters will be on display throughout the meeting.

Notification of Acceptance
The Abstract Review Committees will review all submitted abstracts.
The Abstract Review Committees have the right to re-categorize an abstract.
Notification of receipt, acceptance, and all additional correspondence will be conducted via email with the presenting author.
Presenting authors will be notified no later than December 1, 2022, as to whether their abstract submission has been accepted for an oral presentation or as a poster.

Guidelines
Please be aware that your abstract will NOT be considered if you do not comply with these guidelines.

Abstracts for this meeting must be submitted no later than October 6, 2022.
An individual may submit more than one abstract.
An abstract may only be submitted once. Duplicate abstracts (reporting the same data) that are submitted under a different author will not be considered.
Abstracts must be submitted online through the abstract submission site.
Abstracts must summarize an original contribution and must not have been presented, published or accepted for presentation or publication elsewhere.
Abstracts must be submitted and presented in English.
Once an abstract has been submitted, it may not be revised.
The presenter and co-authors must identify any financial interest in products or processes described in the abstract and sign a financial disclosure.
Due to Continuing Medical Education requirements, the presenter cannot be an employee of Corporate entity.
The presenting author is the primary contact for all correspondence regarding the abstract.
The submitting author is responsible for the following: 

Providing the following information for each author & co-author

Salutation
First Name
Middle Initial (if they have one)
Last Name
Degree(s)
Email Address
Specialty
Institution
Department
City
Country
Is the Presenting Author a Resident/Fellow/Student?
Would you like this abstract to be submitted for the "Members-In-Training Research Achievement Award"?

Ensuring all authors are aware of, have read and agreed to be co-authors of the abstract prior to submission. Failure to get approval from all authors will result in rejection of the abstract.
Notifying all co-authors of any additions, deletions, and/or changes to the abstract.

Spell any symbol abbreviations, as they may not translate correctly.
An abstract may NOT contain any illustrations, images, graphs or tables. The abstract must be formatted in text only. Any abstract containing an image, graph or table will NOT be accepted.
Submission of an abstract conveys permission to the RSS to publish your abstract and/or poster presentation.
Submitting an abstract for presentation does not constitute registration for this meeting. All presenters are required to register and attend the meeting.
You will be using this form to provide your contact information and your required submission details for review. Click Join Now below to begin. Once you have created your login credentials, you may login under "Already a User?" in the future.
---
注册费:
2023 RSS Scientific Meeting Registration Rates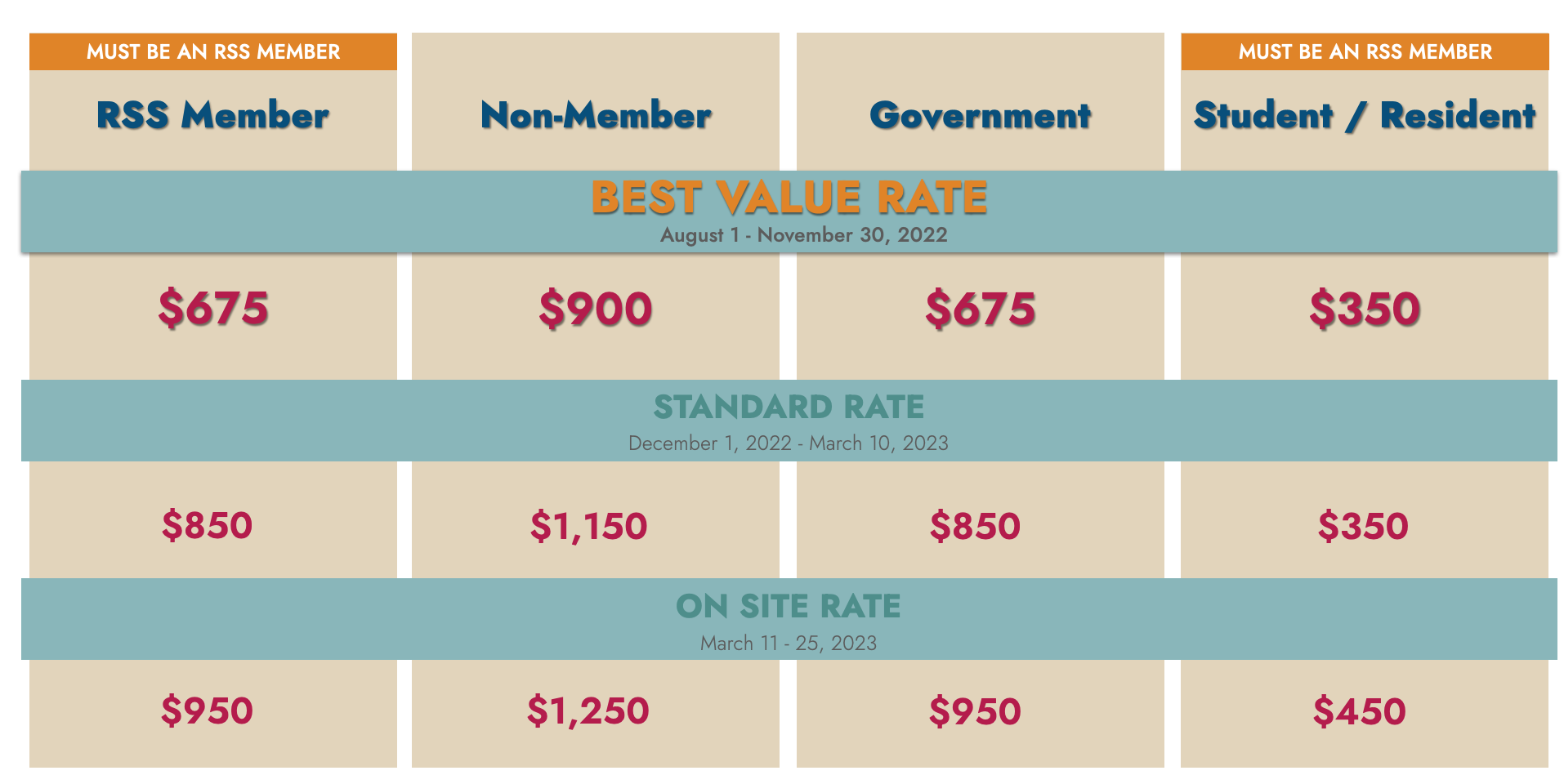 *Prices are noted in US dollars and include processing and credit card transaction fees.
Registration Rates Include
Access to all sessions
Continuing Education credits
Morning Coffee/Beverages
2 Lunches
Daily Breaks
Access for 1 attendee to Evening Reception.
This is an opportunity to view all Posters while enjoying a relaxing evening of networking with your colleagues and enjoying delicious hors d'oeuvres. Each attendee will receive one complimentary drink ticket.
Cancellation Policy
A $150.00 processing fee will be assessed on all meeting registration cancellations; $50.00 processing fee for all meeting registration transfers. Cancellations on or after March 1, 2023, and any no-shows constitute 100% forfeiture of meeting registration fees.



◆ 参会对象:医生、医院科室主任/副主任、住院医师、医院管理者、医护人员以及从事该领域研究的科学家、研究人员、医药企业代表等等。