◆ 会议时间:2022年7月3日至7日
◆ 会议地点:哥伦比亚 卡塔赫纳
◆ 会议简介:
2023年第17届国际物理医学与康复医学会(ISPRM)世界大会将于2022年7月3日至7日在哥伦比亚卡塔赫纳举行,第31届哥伦比亚物理医学和康复医学会大会暨第3届伊比利亚-美洲物理医学和康复医学会议将同期举行,届时将有超过3000名来自世界各地的专业人士,一起互动、学习、分享、交流观点与经验。
国际物理医学与康复医学学会(ISPRM)成立于1999年,由前国际物理医学与康复联合会(IFPMR)和国际康复医学会(IRMA)合并组建而成,是全球唯一的康复医师学术组织。ISPRM致力于不断提高物理与康复医学(PRM)实践,促进全球物理与康复医学的发展;组织国际物理医学和康复医学专业技术人员培训,促进积极从事宣物理和康复医学的医生和研究人员开发和应用最佳的护理方法;促进PRM在国际卫生组织中的投入,帮助有残疾的人们改善生活质量;促进物理与康复医学国家组织间的交流与发展;与国际组织合作制定并实施有效的残疾和康复政策;促进政府、非政府组织、残疾人组织、企业和其他组织之间的合作;组织国际灾难康复救援工作等。未经许可禁止复制摘录转载本站任何内容-国际医学会议网(lingyuint.com).
ISPRM/ACMFR/IBMR 2023 Congress
17th World Congress of the International Society for Physical Rehabilitation Medicine (ISPRM)
31st National Congress of Asociación Colombiana de Medicina Física y Rehabilitación (ACMFyR)
3rd Ibero-American meeting of PMR
Date: June 4 - 8, 2023
Venue: Cartagena, Colombia

摘要:
All submissions must be received via online submission using our website before 23:59 Colombia Time (COT, UTC -5) on November 7, 2022
All authors will receive electronic notification indicating acceptance or rejection of the submitted abstract on February 3, 2023.
One author on each abstract must be identified as the Presenting Author during the online submission process and he/she must register for ISPRM 2023 before 11:59 pm (Colombia Time (COT, UTC -5) EST) on February 28, 2023. 
Online registration will open July 7th, 2022.
Case Report, Case series, Observational Studies (Cohort and case and control studies), Diagnostic studies, Randomized Controlled Trials, Systematic Reviews, Metanalysis, Economic studies, Qualitative studies, Clinical Practice Guidelines. Accepted abstracts will be presented in two formats, Scientific Paper Oral Presentations or Poster Presentations. 
---
Invitation to the world community of Physical and Rehabilitation Medicine
Dear colleagues and friends,
It is a great pleasure for us to present the The 17th World Congress of ISPRM 2023, 31st Colombian ACMFyR Congress and 3ed Ibero-American Congress that will take place in the colonial city of Cartagena. It is a magical place full of history located on the north Caribbean coast of Colombia.
Our motto: "Opportunities in rehabilitation: Integrating knowledge" represents the intention to connect and share concepts between America, Asia, Africa, Europe, and Oceania. The ISPRM World Congress will also be our own National Congress (ACMF & R) as well as the meeting with several Ibero-American societies, for which we hope to welcome most of the MF&R societies from Latin America and the world in our country.
We count on the most enthusiastic local team of members of the Colombian Association working together with the International Committee, made up of members from different regions of the world to plan and successfully carry out this major event.
This event will take place from June 4 to 8, 2023 and it will be held in the Cartagena de Indias Convention Center. We are working hard to offer you a top quality academic and scientific congress that will allow us to share not only the advances in our specialty, but also cultural experiences.
We hope to have a broad participation of practitioners in the rehabilitation field who will strengthen the pathways to advance, disseminate and exchange attitudes, knowledge and experiences in rehabilitation care and integration of people with disabilities and continue to highlight the importance of Physical Rehabilitation Medicine in the world.
Cartagena will surprise you with the kindness of its people, the charm of its colonial architecture and its exuberant landscapes, which will provide an unforgettable experience for everyone.
We hope to see you in Cartagena from June 4 to 8, 2023.
Luz Helena Lugo Agudelo
President
Jorge Eduardo Gutierrez Godoy
President
---
注册费-Registration fees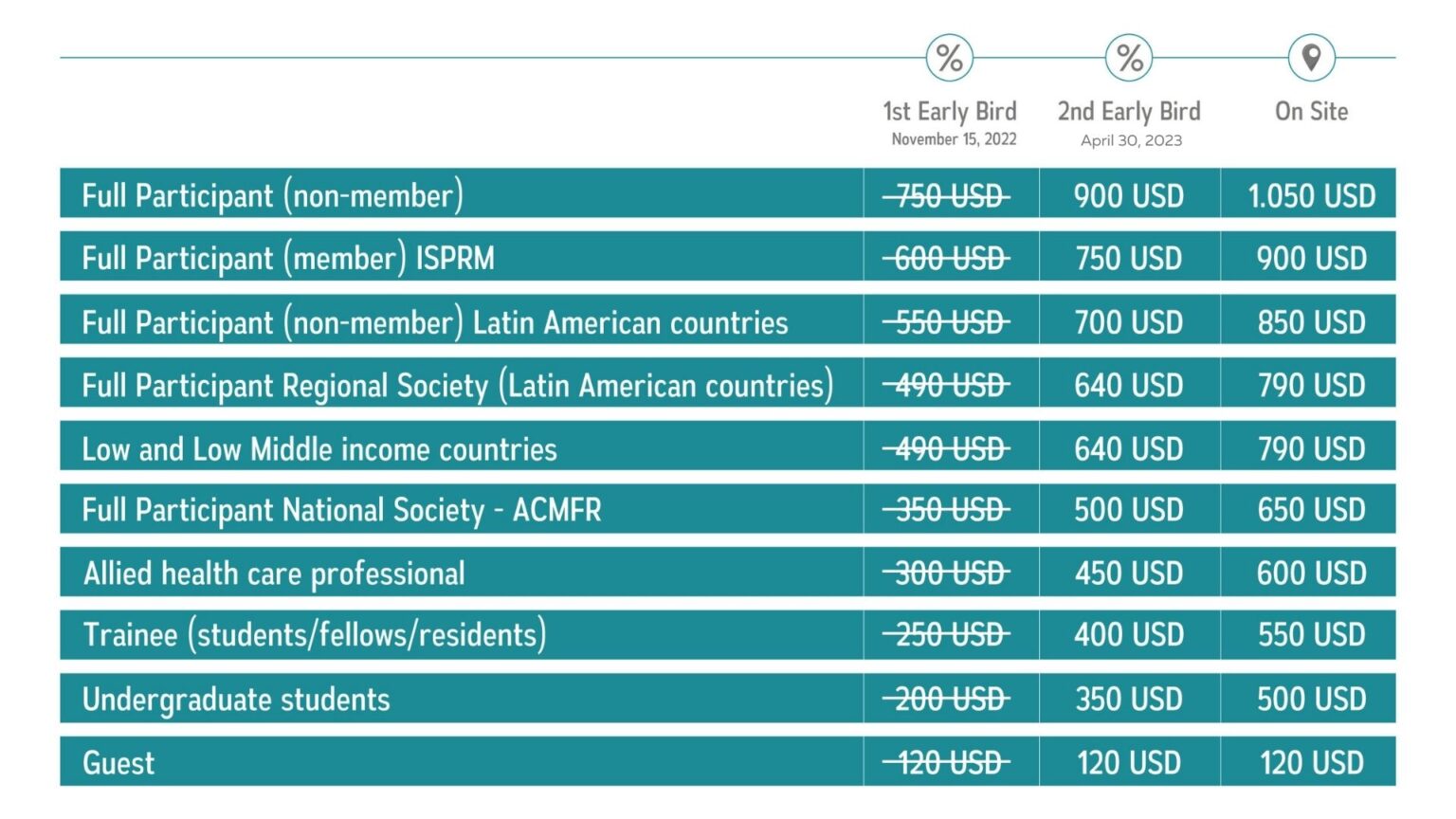 VAT of 19% is already included in the price.
Registration fee includes:
Attendance at all sessions, including the opening and closing sessions.
Access to the exhibition area
Welcome cocktail
Business lunches and coffee-breaks if they are scheduled during the event and that do not require a private invitation.
Information pack for delegates (badge, bag, congress documentation)
Program/book of abstracts
Access to online recordings of invited lectures and plenary sessions (available for a period of 3 months after the congress)
Use of transport circuits at the schedules established by the organization.
Check HERE the low and low middle income countries.
* Guest registration does not include congress meals.
* Guest equals an accompanying person: a spouse, friend or adult child (18 years old and older) who is not working in a PRM related occupation or field.
* Accompanying persons can attend the Opening Ceremony.
* Accompanying persons do not follow the technical program of the congress, and have no access to the exhibition hall.

CREDITS AND ACCREDITATION
100 RECEFYR points will be granted to all participants that attend at least to 75% of the activities. 40 RECEFYR additional points will be granted to the precongress assistant.
◆ 参会对象:康复医生、医院科室主任/副主任、住院医师、医院管理者、医护人员以及从事该领域研究的科学家、研究人员、医药企业代表等等。