◆ 会议时间:2022年6月10日至13日
◆ 会议地点:美国 西雅图(Seattle, WA) - Washington State Convention Center

◆ 会议简介:

2022年第33届美国超声心动图学会(ASE)年会将于2022年6月10日至13日在美国华盛顿州西雅图举行。ASE年度科学会议是首屈一指的专业致力于心血管超声在临床患者护理中应用的国际会议,大会科学计划为所有对该领域感兴趣的医疗保健从业者提供了一个探索心血管超声领域的当前问题和最新进展的机会;大会将提供各种教育活动,所有级别的从业者都会找到满足他们需求的课程,帮助他们改进实践,并有利于他们的专业发展。2022ASE年度科学会议预计有来自全球60多个国家的2500余名专业人士与会。

美国超声心动图学会(ASE)成立于1975年,是世界上最大的心脏成像国际组织,在世界各地拥有超过17000名成员,包括参与使用超声成像诊断心脏和心血管系统疾病的医生、心血管超声医师、护士和科学家等等,ASE在国际心血管超声学术界具有领导地位。ASE致力于通过教育、宣传、研究、创新和服务宣于其会员和公众来促进心血管超声技术人卓越发展及其在病人护理中的应用。ASE的成员是心脏和循环超声专家,致力于改善患者的健康和生活质量。——未经许可禁止复制摘录转载本站任何内容-国际医学会议网(lingyuint.com)。

ASE's Scientific Sessions are the premier international conference devoted specifically to cardiovascular ultrasound in clinical patient care. It is a vital event for practicing echocardiographers and offers a full spectrum of educational events including symposia discussing novice, intermediate, and advanced techniques. Research featuring leading cardiovascular ultrasound experts is also highlighted. The program is an opportunity for all interested healthcare practitioners to explore contemporary issues and emerging developments in the field of cardiovascular ultrasound. All levels of practitioners will find sessions that meet their needs, help improve their practice, and benefit their professional growth.

2022 American Society of Echocardiography (ASE) 33rd Annual Scientific Sessions
Date: June 10-13, 2022
Venue: Washington State Convention Center | Seattle, WA, USA + VIRTUAL

会议主题:SOUND WAVES IN SEATTLE: CONNECTING THE WORLD

摘要与病例报告征集:

All investigators are invited to submit abstracts of original research and clinical cases to be considered for presentation at ASE 2022.

Key Dates-关键日期
October 6, 2021

Abstract submission opens.
点此提交摘要>>>Submit Abstract>>>
摘要提交指南>>>

February 9, 2022
Deadline for abstract submission and editing – 11:59 PM Eastern Time (ET).
March 18, 2022
Notification to Presenting Authors of acceptance status. Abstract Presenter registration opens.
General Information
Authors do not need to be ASE members to participate.
提交费/A non-refundable $20.00 (twenty U.S. dollars) processing fee is required for each abstract submitted, payable online only. Purchase orders, checks, and electronic bank transfers will not be accepted. This fee covers administration and online costs associated with the submission, grading, notification, and slotting processes. This fee is non-refundable whether the abstract is accepted for presentation or not. There are no exceptions.
All expenses (e.g., submission, conference registration, airfare, lodging, etc.) associated with the submission and presentation of an abstract are the responsibility of the presenter.
Submission of an abstract constitutes a commitment by the author(s) to present if accepted. Failure to register for the meeting and present the accepted work, if not justified, will jeopardize future acceptance of abstracts by ASE.
Submission Categories
Abstracts will be accepted for consideration in the following categories:
CLINICAL CASES
Adult Patient Cases
COVID-19 Patient Cases
Pediatric & Congenital Patient Cases
Veterinary Medicine Cases
ORIGINAL SCIENCE – DISEASE/PATHOLOGY-BASED
Adult Congenital Heart Disease
Athlete's Heart NEW!
Cardio-Oncology
COVID-19
Diseases of the Aorta / Vascular Diseases
Echocardiography in SOE / Arrhythmias / Atrial Function
Echocardiography in Systemic Diseases (DM, HTN, Obesity) / Pericardial Disease
Echocardiography in Myocardial Disease (HCM, Amyloidosis, Sarcoidosis, Chagas) NEW!
Adult & Pediatric Heart Failure / Transplant / Other
Ischemic Heart Disease
Pediatric Congenital Heart Disease
Valvular Heart Disease: Aorta NEW!
Valvular Heart Disease: Mitral NEW!
Valvular Heart Disease: Tricuspid & Pulmonic NEW!
Veterinary / Comparative Medicine
ORIGINAL SCIENCE – TECHNIQUE/PROCEDURE-BASED
3D Echocardiography
Artificial Intelligence / Machine Learning
Contrast Echocardiography
Critical Care Ultrasound / Point of Care Ultrasound
Doppler / Hemodynamics
Intraprocedural Echocardiography (Operating Room and Interventional Lab) / TEE
New Technology
Quality / Practice Improvement / Education
Ventricular Function / Myocardial Mechanics
Value of Echocardiography (Quality & Cost) / Outcomes / Comparative Effectiveness
---
ASE 2022 注册费:
ASE 2022 In-Person: Registration includes all the live sessions, choice between 12 tracks, and up to 23 CME/MOC credits. The live sessions will not be included in the on-demand content. In order to claim CME credits from these sessions, you must participate in them live. 44 additional on-demand sessions for up to an additional 52 CME/MOC credits will be available for access for 90 days from Monday, July 11, 2022 to Sunday, October 9, 2022. (75 total CME/MOC credits pending approval)
ASE 2022 Virtual: Registration includes live streaming from the main plenary room and up to 20 CME/MOC credits. Live-streamed content is only available at the time listed in the program. These sessions will not be available on-demand. Please double check what time these sessions will be presented in your specific time zone to not miss the presentations. In order to claim CME credits from these sessions, you must watch them live. 44 additional on-demand sessions for up to an additional 52 CME/MOC credits will be available for access for 90 days from Monday, July 11, 2022 to Sunday, October 9, 2022 (72 total CME/MOC credits pending approval)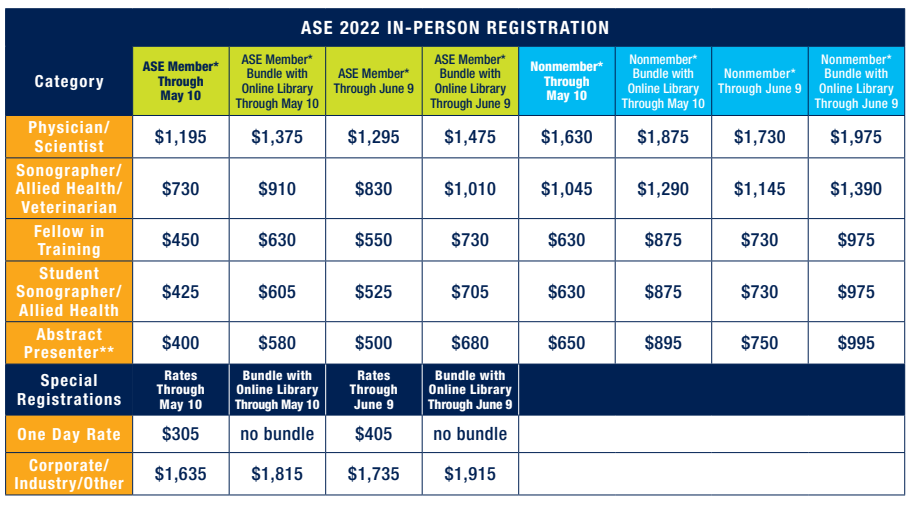 *On-site registration is available, but beginning June 10, 2022, all fees will increase by an additional $125.

If you purchase the ASE 2022 Conference Online Library as a bundle with registration, you will receive a small discount. The Library is $199 for ASE members and $250 for nonmembers when not bundled with a registration. The price will increase after the conference to $299 for ASE members and $399 for nonmembers. The Library includes unlimited online access, for three years, to the 2022 Scientific Sessions including live audio, screen capture with animation, mouse pointer and embedded video.
**IMPORTANT NOTE FOR ABSTRACT PRESENTERS: If you are submitting an abstract for ASE 2022, and wish to receive the discounted rate for abstract presenters, please do not register prior to receiving acceptance notification on April 1, 2022. No refunds will be given to registrations made prior to notification. If you will be serving as faculty at the Scientific Sessions, please do not register as there will be a separate process for faculty
+International registration includes CME and is designated for anyone who resides outside of the United States.
ACTIVE OR RETIRED U.S. MILITARY: ASE honors all active and veteran military attendees! If you have served in the U.S. military and would like to participate in the ASE Scientific Sessions, please email Registrar@ASEcho.org to receive a discount code for the registration fee. Please include a copy of your active, retired military ID, or DD214 form (be sure to omit any personal information, such as your social security number from the copy that is submitted).
---
ASE年会-2022 ASE超声会议-ASE超声心动图学会年会-ASE超声年会-西雅图ASE年会

---

◆ 参会对象:医生、医院科室主任/副主任、住院医师、医院管理者、医护人员以及从事该领域研究的科学家、研究人员、医药企业代表等等。