◆ 会议时间:2021年8月30日至9月2日 线上+线下
◆ 会议地点:意大利 罗马/Rome, Italy - Auditorium Parco Della Musica
◆ 会议简介:
2021年国际妇科癌症学会(IGCS)全球年会将于2021年8月30日至9月2日在意大利罗马举行。IGCS全球会议将提供一个包括外科手术、化疗、放疗和病理学创新发展在内的最新、最前沿信息的科学项目计划,为与会者提供一个了解妇科癌症患者的最新临床进展以及研究、实践和治疗方面国际进展的机会。2019年会议有来自73个国家的1,018名代表出席。
国际妇科癌症学会(IGCS)成立于1987年,是一个致力于通过教育、培训和公众意识来提高妇科癌症患者护理的非营利性组织。IGCS在妇科肿瘤的预防、治疗和研究,以及改善全球妇科癌症患者生活质量等方面做出了重大贡献。目前,IGCS在全球80多个国家拥有超过1000名成员。IGCS每年在世界不同的国家和地区举办科学会议,大会科学计划委员会由世界一流的妇科癌症专家组成。通过最精彩的讲座、最新的研究和互动课程等形式,为与会者了提供一个与世界同行交流思想、分享知识与经验、与同行合作以及接受教育的平台(未经本站许可,禁止复制摘录转载本站任何内容-领域国际医学会议网)。
IGCS 2021
Rome, Italy + Virtual
August 30 – September 2, 2021
Auditorium Parco della Musica
摘要提交:
摘要提交截止日期-Abstract Submission Deadline: Wednesday, May 5, 2021 - 23:59 CET
摘要提交指南-View Abstract Submission Guidelines.
---
Dear Colleagues,
Planning for the 2021 IGCS Annual Global Meeting is underway, giving us an excellent opportunity to look ahead with optimism. While the meetings and conventions has transformed in the face of the COVID-19 pandemic, we believe the best approach to move forward is to be bold, see challenges as opportunities and work together to assemble an outstanding Congress.
Safety is of course our utmost priority and the IGCS team is working very closely with a local professional conference organizer, the venue, and the Italian government as rules and regulations are released for safe ways to gather with an abundancy of caution. We will keep you fully informed in the coming weeks and months and understand how this may affect the way you can register for the Congress.
We continue to be most appreciative to the Società Italiana di Oncologia Ginecologica (SIOG) for their continued support and partnership in planning Rome 2021.
You can expect what you have come to know over the years from IGCS and our Congress, one that is filled with the latest education and advancements in gynecologic oncology. Engagement is major priority for Rome 2021 and understanding that not everyone will be able to travel to Rome we have found a unique way to disseminate our education globally without sacrificing personal interaction. With the virtual platform we will be using a "hub and spoke" approach that will allow us to broadcast from Rome as the hub, to many locations all over the globe creating the spokes. This is fulfilling our international educational mission.
We will be encouraging regional gatherings of delegates when conducive and identifying local key opinion leaders in each of these regions to interact with the speakers and moderators in Rome to provide a similar effect and impact as to being there in person. We are excited to share more on this exciting concept soon.
Our assignment to you is to consider submitting an abstract to the meeting. The submission deadline is May 5, 2021 and submission guidelines can be found here. We as well as the Scientific Program Committee welcome the opportunity to review your current research and work related to these topics and themes. Accepted abstracts will be assigned as oral presentations for the plenary sessions, oral posters, or e-posters. In 2020 our abstract poster hall was overwhelmingly popular, allowing for the learner to not only view the digital posters but listen to a short audio recording of the author describing their work. Throughout the duration of the meeting, the 450 digital posters were viewed over 4200 times.
We are cautiously optimistic about the opportunity to gather again and share with many of our international colleagues in this enthusiasm. We are confident that we can provide a safe environment for delegates to assemble in person and we are fully committed to utilize the latest in virtual meeting technology to connect with those of you who will be experiencing IGCS 2021 from afar.
Whether you join us at the central "hub" in Rome or participate from a "spoke" location somewhere globally, we hope you will join us in making big plans for IGCS 2021.
We hope to see you soon – or as they say in Rome, Arrivederci!
Ana Oaknin, MD, PhD
Spain
Matthew Powell, MD
USA
---
注册费:
Virtual Meeting Technology
No matter which registration option you choose, all registrants receive full access to the Virtual Meeting Platform. IGCS is utilizing the latest in virtual meeting technology to disseminate the latest in gynecologic cancer research and clinical practice to our global delegation.
Registration fees (in EUR):
Fees apply to payments received prior to the indicated deadlines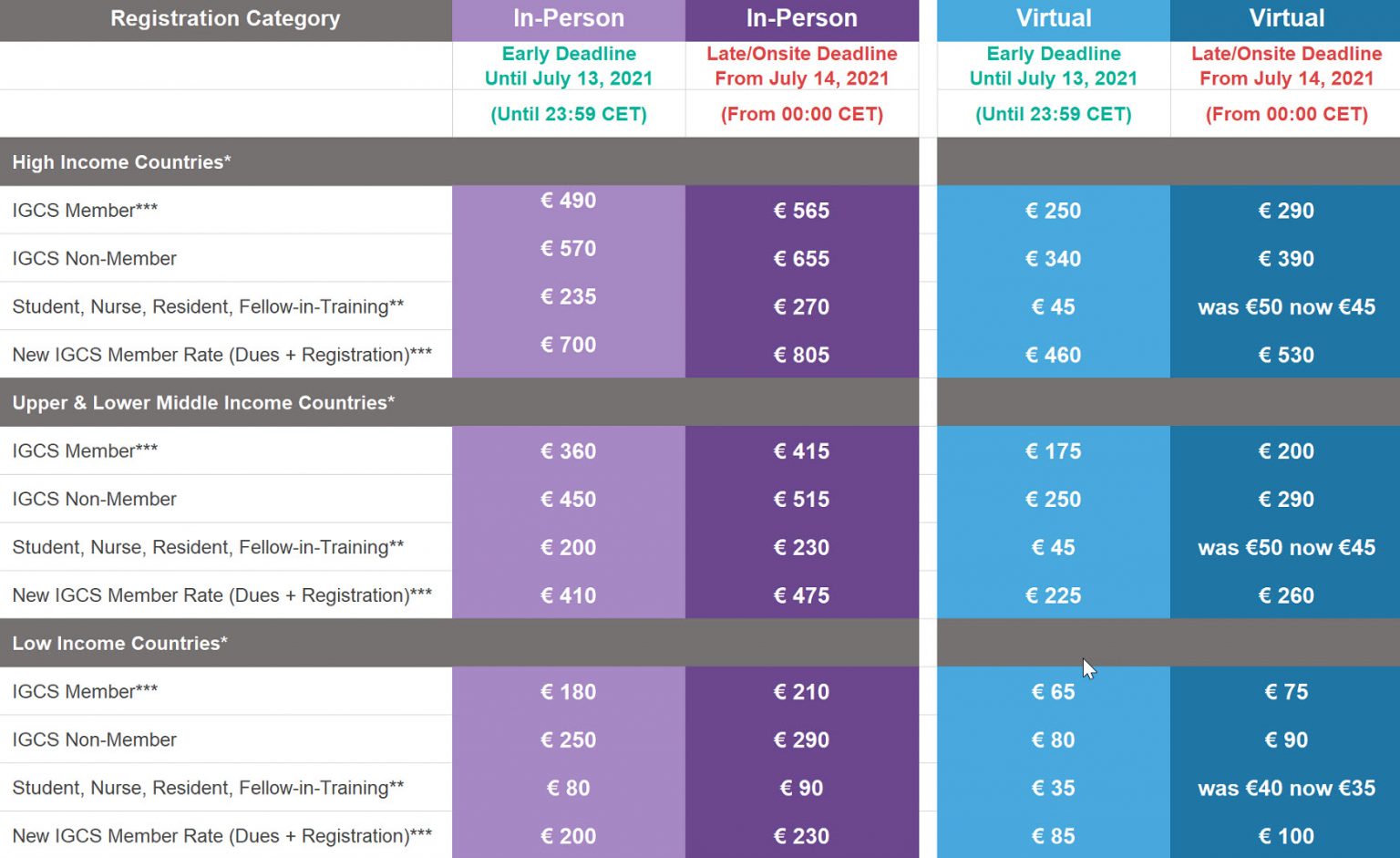 What do I get with my virtual delegate pass?
• Exclusive access to the entire IGCS Virtual Meeting Program which takes place from August 30 – September 2, 2021.
• Ability to participate in Q&A segments and polls during the live educational sessions.
• On Demand access to recordings of ALL sessions within the IGCS Virtual Meeting Program until December 3, 2021.
• Access to the Virtual Abstract Poster Hall with hundreds of e-posters and audio files uploaded by the presenter.
• Access to the Surgical Film Cinema which features selected surgical films that were collected during the open call for abstracts and surgical films.
• Ability to connect with authors, speakers, delegates, and industry representatives through the meeting messaging portal.
• European Continuing Medical Education Credits (ECMEC®) for healthcare professionals for most of the sessions attended. Credits may be converted to American and Canadian units.
What do I get with my Rome delegate pass?
• Those who are attending the meeting in person receive everything that is included with the virtual delegate pass listed above.
• Access to all live courses held at the Auditorium Parco della Musica.
• Access to Industry Sponsored Product Theatres.
◆ 参会对象:妇科医师,肿瘤学家,临床医生,住院医师,放射科医师,外科医师,护士,病理学家/医师,医师助理,临床研究助理,以及其他对妇科肿瘤预防、治疗、研究感兴趣的相关卫生保健专业人士等等。